iTunes Sync v1.5 has just been released onto that wild party known as the internet... and it's the biggest release to date. It includes a whole heap of changes, including some exciting new additions. Let's jump right in and starting chatting about the biggest change of all: localization. With some fantastic help from 6 fearless volunteers we have localized iTunes Sync into these 3 languages:
Deutsch: Georg Madler, Jurgen Hardt, Philipp Klingler, Thiemo Scherle
English
Espanol: Hugo Gomez Mac Gregor, Nicolas Pierri
Also included in the Change Log are these exciting additions:
3 new File Extensions: wma, wmv and asf
4 new Folder Structures that include the Playlist name as a prefix
Proxy settings for connecting to the internet (auto-updating)
Reduced the memory usage
Better handling of duplicate playlists - it now shows you which playlist names are duplicated
This is only about half of all the changes, fixes and additions. If you want to see everything that has changed please check out the complete Change Log.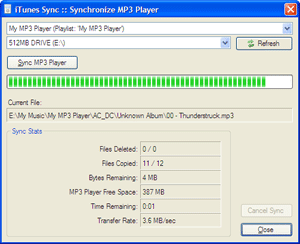 Check out the latest version of iTunes Sync today!