Sync iTunes with almost any device!
iTunesFusion makes it easy to sync iTunes with almost any phone, tablet or MP3 player. Fast and easy to use, with customizable settings for power-users like custom file naming based on tags.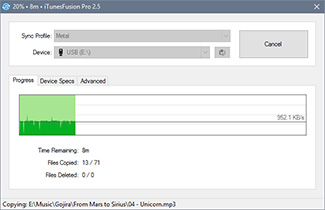 Sync Profiles
With iTunesFusion's Sync profiles, you can set up multiple devices with different settings to quickly and easily sync the music you want to any media device. Customize things like the iTunes playlists you want, where the music will sync to, and even set up custom file names.
Smart Sync
iTunesFusion automatically knows what is already on your device and what is in each playlist, so it only syncs the media that's needed. iTunesFusion will also copy the files in alphabetical order, so older devices will play your files back in the proper order.
File Conversion
iTunesFusion can automatically convert any unprotected music file to MP3 using its built-in File Conversion feature. Convert (transcode) your files to work on older devices, or to use a lower bitrate and save space on your device.
Excellent Device Support
Sync to any media device with iTunesFusion's MTP and USB device support. This includes your Android Phone, Windows Phone, Blackberry, USB key, external hard drive or a newer MP3/MP4 player.
Advanced Sync Progress
With iTunesFusion's progress and device charts, you can keep track of everything that is happening to your device as you sync.